7 Tips for Meeting With the Board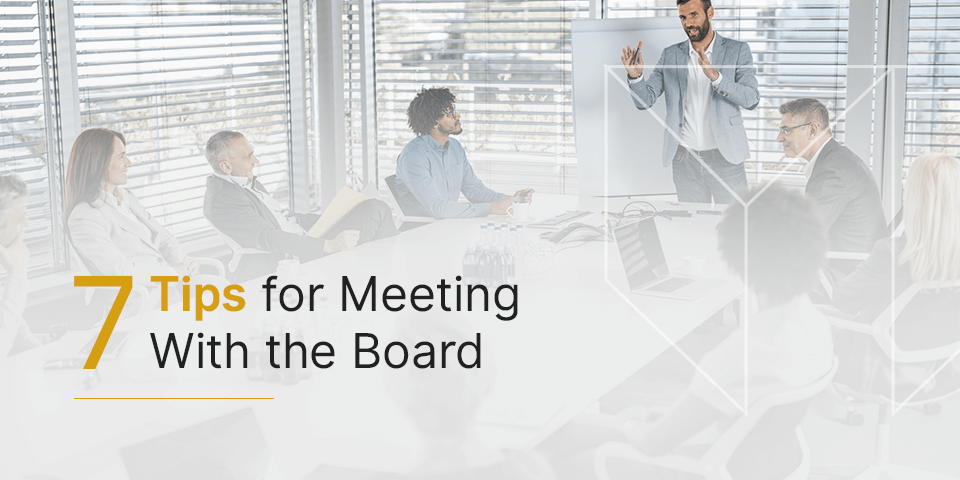 Meeting with your boss for the first time in a new job can be nerve-wracking. When your boss is a group of people with unique backgrounds, agendas and expectations, the meeting becomes even more complicated. As an executive, you likely feel the delicate balance between understanding how to manage a board of directors meeting while also remembering that you answer to these individuals. By preparing for your first board meeting with the following tips, you can show you have what it takes to lead your company to the next milestone.
1. Practice With a Mock Meeting
Meeting with a board is a different kind of meeting than the investor pitch — a presentation many young entrepreneurs have already mastered by the time they meet the board of directors. There's a new set of rules to follow and a larger group of people to impress.It can be valuable to get advice from someone who has experience with board meetings as you prepare. An investor or trusted ally with experience as a board member can tell you what board members might think, ask and expect. In a mock board meeting, you'll be able to practice presenting and fielding questions. Take advantage of feedback from your mentors during your practice session to make your meeting plans as effective as possible.
2. Send Relevant Documents in Advance
Sending information two weeks in advance gives board members a chance to digest it. Everyone will have time to read documents in-depth and make notes of any questions or comments. Your board will expect all your documents to offer well-researched solutions to problems. Remember, board meetings offer precious face time. The more time you can dedicate to debating ideas, the better. Know that board members may not be able to provide insightful comments on the spot unless they've had time to consider the meeting topics.
Doing your board meeting preparation two weeks in advance is a good discipline for a first-time or new executive. You'll have to summarize and organize the information you plan to cover, which can help keep you on-task in the meeting. If your board meets once a month, you can start preparing for the next meeting immediately after each session. This can also help you stay focused on a strategic direction and won't give you a chance to let action items from the previous meeting fall by the wayside.
3. Create an Agenda and Stick to It
A plan keeps the meeting on track and gives your entire board an overview of what you plan to discuss. It can be helpful to have a standard structure for all your board meetings, and your first meeting will set the tone. If you're the new executive at an established company, ask your board members if they already have a format for meetings. While planning the board meeting, make sure you address essential items first and save items that could wait until the next meeting for the end. You'll be thankful you did if the discussion runs long.By formatting the meeting the same way each time, you make it easier to prepare for each session. Board members will know what to expect every time. Assign action items if any are required, and be sure to note any expectations for the next meeting. Close the presentation by allowing each board member to give their parting thoughts.
4. Know Who You're Meeting With
Before meeting with your executive board for the first time, do some research. Getting to know each members' background can help you understand their perspectives. Try to figure out the issues most important to each board member so you can answer their questions insightfully. You should also make a point to introduce yourself. When you reach out to your board members, be sure to give each one the chance to ask any initial questions and add items to the agenda.If you can build a one-on-one relationship with each person, it will feel less intimidating when you meet with them as a group. Discussing individual members' interests and concerns can also save you from facing these tough questions for the first time in front of the whole group.
5. Discuss Future Growth
One of the most critical board of directors meeting tips to keep in mind is to prepare a statement about future growth. Especially at the first board meeting for a new company, board members want to be confident in your ability to lead the company to success. Be ready to discuss the demand for your products or services using specific research, reports and relevant news articles. Lay out your vision for prosperity and your plan for how you expect to get there.
6. Be Confident
Projecting confidence is essential as your board is developing first impressions. Those who display high levels of confidence are rated more favorably by their managers in overall business leadership effectiveness. Managers consistently say that confident leaders are more likely to challenge the norms, be a champion for projects and make strategic changes.
Here are a few ways you can demonstrate confidence in the board room:
Know your facts: Whether you're laying out a strategic plan or discussing your revenue streams, you need to back up what you say. You should know metrics, such as profit margins, and be able to explain them in-depth. If you say there is increased demand for a product in a particular area, you should be able to point to the research that proves it. When you don't know something, be honest and take the initiative to look into it.
Take a leadership approach: One mistake many new executives make is using their board as an advisory council. Board members want to see you have the confidence and leadership experience to solve problems. Board meetings are a forum to present solutions, not to ask hard-to-answer questions. During your first few months, seek outside advice for challenges. As you progress at the company and get to know your board members, you can start to seek council from them. Still, try to ask these questions outside of the board room.
Be prepared for resistance: Not every idea you present will be met with instant approval. You'll likely face some healthy debates, especially for plans you haven't already discussed with your board members. You should always speak to your board members individually about new ideas to get their takes on them. Then, you can adjust your strategy accordingly and gather helpful supporting data before the meeting.
7. Have Accurate and Up-To-Date Financial Statements
Your financial statements are both an indicator of success and an overview of what your business is doing. Every board meeting should include some time to review these numbers. You should demonstrate that you understand these numbers and be prepared to defend your expenditures. You should send out financial records 72 hours in advance to ensure everyone has a chance to read them and prepare comments.
Financial statements, especially revenue streams and profit margins, provide an easy metric to track growth. By having up-to-date numbers at every meeting, you always know how your company is doing, and so do your board members. Be prepared to field questions and discuss how you plan to bring costs down and increase revenue.


Outsource Your Accounting to Marshall Jones
Having board-ready monthly financials to discuss is essential to coming to your board meeting prepared. That's why an outsourced team of certified public accountants and advisors from Marshall Jones can make such a big difference for first-time CEOs and new companies.
You get professional accounting services at a lower cost than hiring an in-house bookkeeper and an accessible accountant you can reach out to at any time. We provide accurate and up-to-date financial statements that you can discuss with your accountant before a meeting so you can understand and present all the details to your board.
Learn more about our outsourced accounting services today to see how we can assist your company.